Oregon Beach Vacation Rentals Map
Click on a City to See Listings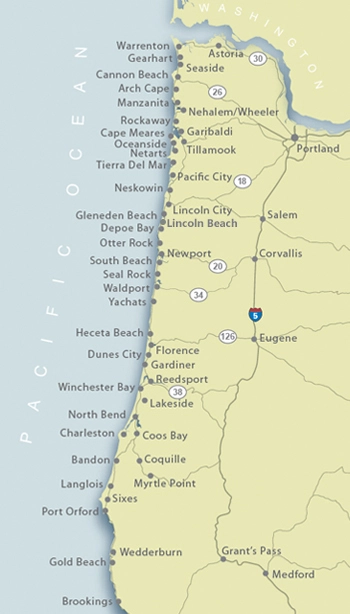 Click on any city to find a beach rental and coast vacation rentals for that city. You will find listings for Oregon State cabin rentals and beach rental condos. Oregon beach vacation rentals are a great way to enjoy the beauty of the coast and have a spectacular vacation.
The Pacific Northwest is known for its beautiful mountains and coastal scenery. The rugged beauty of Oregon and Washington's mountains, seacoast and forests attract millions of tourists every year. The coastal range borders the Pacific Ocean from Washington's Olympic Peninsula on the north to the Klamath mountains of Oregon on the south. The rolling coastal ranges run parallel to the coastline. They are the lowest of the two major north-south mountain ranges. The other range being the Cascades. Douglas Fir, Hemlock, Spruce and other evergreen trees cover much of this coastal mountain area.
From late autumn through much of the spring moisture laden winds from the Pacific Ocean bring persistent rains to this coastal strip and to the slopes of the coastal ranges. The average annual precipitation varies from about 60 in. near Coos Bay, Oregon to more than 100 inches on the Olympic Peninsula. This area in northern Washington and the mountains directly behind constitutes one of the wettest areas of North America.
The summers are comparatively dry because the storm tracks shift further north. The rains combined with the rugged coastal mountains give rise to some of the most spectacular natural beauty in the world.
The Oregon coastal area has numerous light houses that you can tour. Regularly scheduled tours are offered at the Cape Blanco, Heceta Head, Umpqua River, Yaquina Bay and Yaquina Head lighthouses. The Cape Meares and Coquille River lighthouses have public exhibit areas.
Between Coos Bay and Port Orford, OR, a unique climate area exists for plants and trees. The Port Orford Cedar tree, Oregon Myrtle and the Western Azalea are found here.